YouTube Feature: The "New To You" Tab Is Here!
What are YouTube features? How do you use the new feature on YouTube?
If you are an Android user, we are sure you must have come through the YouTube new feature that is the New to You tab. Suppose you like watching tutorials, you must have observed that you see a list of recommended videos on your homepage from the same YouTubers. While there are many YouTubers who make tutorials and keep updating new videos. But this doesn't appear on your home page. But now this new feature on the YouTube homepage will show you videos that you haven't watched! Isn't it fun? Let's now learn about the New to You YouTube feature in this blog.
What is New To You YouTube Feature about?
As we already mentioned, YouTube is now going to display a list of videos from your favorite niche that you haven't watched yet in the "New to You" tab. All these videos will be available to you in just one click! Yes, this is the new feature YouTube has introduced lately.
We all know that we have recommended videos tab, that recommends you to watch videos based on your history. There might be a variety of videos that include gaming, tutorials, product reviews, musical videos, or event videos. Now you know how long a list of videos you have on the recommended tab. You end up watching only those videos and actually miss out on new videos related to the same niche.
But the YouTube new feature will display you videos that are yet undiscovered by you.
This feature appears on the YouTube homepage for Android users only.
Where To Find The New Feature On The YouTube Homepage?
If you are an Android user, you need to open the YouTube app.
You will see the 'Explore' option on the top bar, just below your user icon, you will see the 'New to you' feature.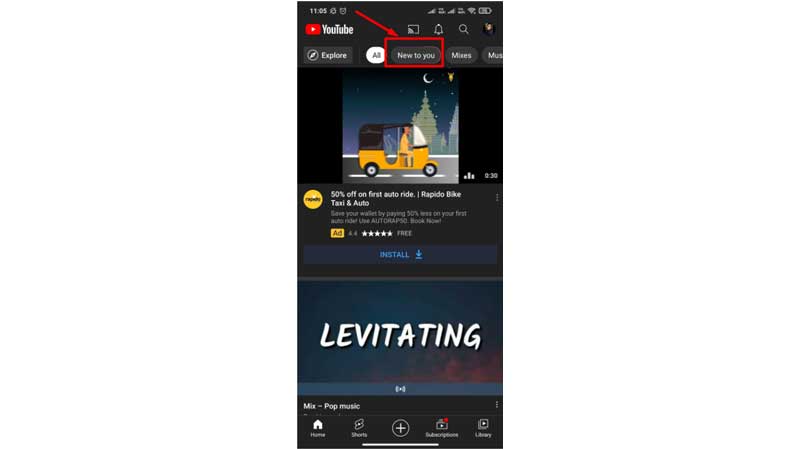 If you cannot see the option, you need to refresh the page by dragging the page.
How to Get the New to You YouTube Feature on your desktop?
When we say that the new feature on YouTube is available for Android users, it doesn't mean that it isn't available on your desktop version. Here's where you can find the New to You YT feature on your desktop. This new tab on YouTube will actually seem like a card that will read, "Looking for something different?". This card will pop up in between the list of the recommended videos or the ones that you have recently watched when you open YouTube on your desktop. The list of recommended videos that you can see in the image below is based on the list of videos that you watch on YouTube.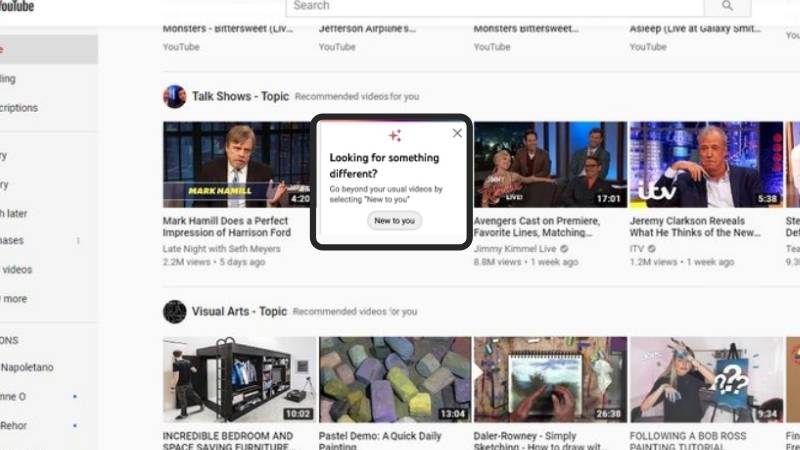 With the New to You YouTube feature, you will see videos that you haven't explored. This tab is also going to help the YouTubers who make videos of your interests but yet have not got exposure on YouTube.
Conclusion
Check out the new to you YouTube feature and get exposed to the list of videos of your interest. You will see videos you haven't seen just on a click available on the YouTube homepage. If you want to know the latest YouTube updates, click here.
Frequently Asked Questions
Q1. What is the new update on YouTube 2021?
Ans. One of the best new features on YouTube is the ability to switch between accounts. If you have or look after another YouTube channel you can now connect them with one Gmail account.
Q2. How do you use the new feature on YouTube?
Ans. Before if you want to watch a video on the full screen you had to click on the full-screen option. But now you simply have to swipe up on the video to watch it on full screen.
Q3. Is YouTube shutting down in 2021?
No this is a fake rumor. YouTube is one of the most loved video-sharing platforms and has also helped many YouTubers in building their profession.
Q4. What is new to you on YouTube?
The New to you feature on YouTube is a personalized list of videos based on your interests and which are yet undiscovered by you.